Presentation of Russian version of "Black Garden" book dedicated to the history of Nagorno Karabagh written by a British journalist Thomas de Waal was held yesterday.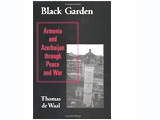 Thomas de Waal said at the event that, the book was issued in English 3 years ago. Saying he visited Yerevan, Baku and Karabagh many times when preparing the book, the author noted that, he tries to meet the people suffered from the conflict and to get acquainted with the reality.
According to Thomas de Waal, the book was prepared in order to prevent propaganda of hostility between the two nations and to contribute to the maintenance of the peace. The British journalist stressed the necessity of quick resolution of the conflict: "The conflict started before cold war. Armenian press shows all Azerbaijanis in the image of Ramil Safarov in an axe in his hand and Azerbaijan media shows Armenians in the image of killer. The two countries should not expect that big countries will solve the conflict. Or otherwise, the region will be under control of hegemonic countries."
Thomas de Waal said that, the history of the conflict was also reflected in the book. Expert of Peace and Democracy Institute Arif Yunis took a stance on the book. He expressed his confidence that, the book will contribute to the settlement of the conflict: "The book was written in simple language and shows the reality of conflict."
Politician Rasim Musabayov spoke of the role of Great Britain in the settlement of the conflict. According to him, Great Britain knows Caucasus better than any countries in the world. Rasim Musabayov said that, Great Britain can use this potential and can contribute to maintenance of peace in the Caucasus.