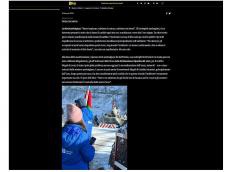 By Trend
Matteo Carnieletto, a reporter for the Italian InsideOver news website, covered the peaceful protest of Azerbaijani eco-activists on Azerbaijan's Lachin-Khankendi road, Trend reports.
The article says that Azerbaijani ecologists have been protesting on the Lachin-Khankendi road for over 30 days, chanting slogans such as "Stop the pollution!", "Protect the environment - protect ourselves!".
"They have been holding a peaceful rally on the Lachin-Khankendi road for more than 30 days, and Armenia accuses them of blocking the road for political reasons. Activists reject the accusations and prefer to focus on ecology and the environment," the article says.
"For decades, the Armenian occupiers have been plundering these lands and polluting the environment. They continue this activity, and now is the time to put a stop to it," the reporter quotes protesters, drawing attention to the illegal transportation of weapons along the Lachin-Khankendi road.
Carnieletto notes that immediately after the signing of the trilateral declaration in 2020, the road was used by Armenians for the illegal trafficking of weapons, and mines, as well as for the export of minerals looted from Azerbaijan's gold and copper mines. "Moreover, cases of illegal entry of undesirable persons through this road from other countries, in particular, from Iran, have been repeatedly recorded," he adds.
The Italian reporter also noted the liberation of Shusha, mentioning that the operation to liberate the city by Azerbaijani special forces was the subject of study by military specialists from the US and Singapore. He also notes an agreement in the defense sphere recently signed between Italy and Azerbaijan.
Carnieletto rejects the accusations of the Armenians, noting that the road is open, and the participants of the peaceful protest do not hinder the movement of cars and humanitarian convoys in any direction.
"Approximately every forty minutes, the Russian vehicles pass along the road, and the participants of the protest create conditions for their passage. Therefore, a blockade or a humanitarian catastrophe is out of the question. The Russian cars, ambulances, humanitarian aid, and vehicles of the International Society of the Red Cross freely pass through the territory where the rally is taking place," says Carnieletto in his article.