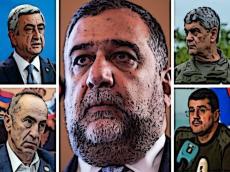 Ruben Vardanyan, a Russian billionaire of Armenian origin, will be relieved of his "post of the state minister" of the "government" of the Karabakh separatists, Azernews reports per Armenian sources.
The leader of the Karabakh separatists, Arayik Harutyunyan, allegedly urged Ruben Vardanyan, notorious for his role in money laundering" to quit "his post", and that a corresponding order would soon be issued.
This decision, Armenian sources allege, was made due to the latest scandalous statements by Ruben Vardanyan, which further destabilized the situation in Karabakh.
Reports are also around that before making the decision, the Karabakh separatist leader held a meeting with members of the Security Council of the separatist entity and, took the decision.
Simultaneously, Ruben Vardanyan himself stated that he was not going to resign.
"I'm not going to resign, especially during this crisis. The possible resignation of the president or the dissolving of the parliament is also unacceptable. We must convene all our efforts to overcome this horrible situation. We must preserve #Artsakh & we have that chance today!" he tweeted.
Vardanyan emphasized the need to increase efforts to overcome the challenges facing separatists in part of Karabakh under the temporary control of the Russian peace-keeping contingent.
"Under such circumstances, we have no right to serve the enemy's agenda and surrender. Now we have a real opportunity to keep Artsakh Armenian. I call on everyone to political sanity and solidarity," the separatist said.
Earlier, sources in Karabakh said that Ruben Vardanyan would be relieved of the post of "state minister of the republic". According to the sources, the current interior minister of the separatists, Karen Sargsyan, will replace the fledgling maverick, primarily viewed as the Kremlin man in Karabakh with chances to substitute Nikol Pashinyan of Armenia in a short while.
On January 14, Karabakh "speaker" Artur Tovmasyan did not rule out talks about holding snap "parliamentary and presidential elections in the separatist region to overcome the current crisis situation".
Ruben Vardanyan - Russian billionaire from Forbes without a passport and "state minister" in Karabakh
The founder of the Troika Dialog company, since November 4, 2022, has been "minister of the state of Artsakh, or Nagorno-Karabakh".
In order to be able to work in such a position, he had to renounce Russian citizenship, and Vladimir Putin, at his request, signed a corresponding order.
Vardanyan transferred the entire business in Russia to a family foundation, and his business partners are now managing the assets. According to the businessman, since Russia and Armenia are friendly countries, if necessary, he will always be able to visit Moscow if his business requires it.
Ruben Vardanyan was born in Yerevan. He is considered one of the pioneers of the investment banking business in Russia, which actively began to take shape after the collapse of the Soviet Union.
For the first time, Vardanyan got into the Russian Forbes list back in 2007, at the age of 39. As of 2021, his assets were estimated at $1bn.