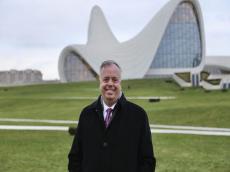 Director of the Office of Caucasus Affairs and Regional Conflicts in the Bureau of European and Eurasian Affairs at the State Department Mark Cameron is visiting Azerbaijan, Azernews reports, citing the US embassy in Baku.
In Baku, Mark will join internal meetings with the embassy team, speak at an American Corner event, as well as meet with a variety of officials, economic and political circles as well as other US government partners.
"In his meetings, Mark will note that the United States remains committed to promoting a secure, stable, democratic, prosperous, and peaceful future for the South Caucasus region. He will emphasize that direct dialog is key to resolving issues and reaching a lasting peace," the embassy said.