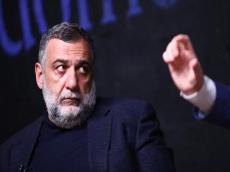 By Trend

Armenian media outlets are spreading information that 'authorities' in Azerbaijan's Karabakh are planning to hold the so-called 'early parliamentary and presidential elections' in the near future.
It's quite obvious that Vardanyan and his crew will win the elections, as Vardanyan is looking to take place of the so-called "president" of the separatists.
In fact, the clean-up has already started - Vardanyan took down the self-proclaimed "secretary of the Security Council" Vitaly Balasanyan and it seems the current so-called "president" Araik Harutyunyan is next. Harutyunyan has long been in the shadows. He was not even invited at the Vardanyan's press-conference held recently.
So, it seems Vardanyan is looking to walk all over his rivals, take control over the separatists, however those who Vardanyan answers to, have bigger plans for their puppet. The plan envisages him eventually taking the higher post in Armenia itself, instead of the current PM Nikol Pashinyan.
This is a familiar scheme - back in the day, former Armenian presidents Robert Kocharyan and Serzh Sargsyan (the so-called Karabakh clan) seized the power in Karabakh only to be later 'moved' to Yerevan.
After the collapse of the clan, the puppeteers needed new players to bring Armenia under control.
It looks like the masterminds are using the old scheme, which worked once. Decades ago. The reality is that today Azerbaijan, and the entire South Caucasus are not what they were decades ago. The victory of Azerbaijan in the second Karabakh war under the leadership of President Ilham Aliyev, proves this point. All this led to new reality in the region, which Vardanyan and his patrons will have to reckon with.
As President Ilham Aliyev said in 2021, any attempt to drift towards revanchist ideas in Armenia will result in Azerbaijan's 'iron fist' being raised yet again, just like during the 2020 Karabakh war.
Apparently, the Armenian separatists and their foreign patrons are still living in the past and continue their subversive activities, preparing for a new war, which, for them, means the the bitter reality of the 'iron fist'.