Azerbaijan Democrat Party (ADP) made a decision that Azadlig bloc will continue its activity without Musavat.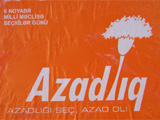 As APA informs, according to ADP spokesman Nureddin Ismayilov, Musavat Party can not be a member of this bloc after having made different decision on parliamentary elections: "ADP passed the official decision, now is the turn of PFPA. After they make such decision, we will discuss creation of new format. In any case, Musavat Party will not be in the activity of the bloc."
PFPA deputy chief Hasan Kerimov told APA that, their party will not discuss the decision of Musavat on attendance in re-elections and parliament: "We think that, such discussion should be held in Chairs' Council of Azadlig bloc. If the bloc leadership does not hold such discussion, we will not discuss the steps of Musavat in the party."
Hasan Kerimov stated that, meeting of the bloc leadership is expected to be held in this week. The activity of the bloc will be discussed at the meeting.