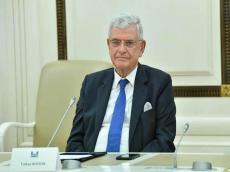 By Trend
Heydar Aliyev brought Azerbaijan from tough times to a different level, reforming the country, Volkan Bozkir, Former Chairman of the UN General Assembly, member of the Nizami Ganjavi International Center (NGIC) told Trend Jan.13.
"Heydar Aliyev became Azerbaijan's president at a very difficult time when the country's territories were occupied, Baku was threatened," he said. "I was chief of cabinet of Türkiye's President Suleyman Demirel at that time and witnessed personally the important things Heydar Aliyev was doing for Azerbaijan."
He reformed the country, strengthened democracy, established the legal system, new civil court, Bozkir said.
"Heydar Aliyev was also an example to us and we will keep his legacy. The marvelous leader will never be forgotten," he said.
Bozkir also hailed what President Ilham Aliyev is doing for Azerbaijan.
"Every country in the world recognizes the political, economic importance of Azerbaijan. Azerbaijan has become an important power in the region and in the world, and contributes a lot to peace and stability," Bozkir said.