"Probability of signing any document at the meeting of Azerbaijani and Armenian to be held in France on February 10 is minimal," said Novruz Mammadov, the head of the Foreign Relations Department of the Office of President.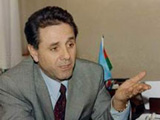 According to him, exchange of views would be held on certain details. "I suppose, during this visit, the negotiations will be carried out in the form of discussions and exchange of views on certain problems. The main thing is to reach an agreement on principal issues."
As ANS reports, touching upon proposals to involve Armenian community of Nagorno Karabakh to the talks, Mr. Mammadov stated position of the official Baku on this regard remains unchanged. "Our stance is unchanged. Position of Azerbaijan is to ensure Azerbaijan's territorial integrity and to solve the conflict by means of peace and negotiations under international law norms. The negotiations will be held mainly in this direction."
The department head also said both Azerbaijani and Armenian communities could join the talks only after principal agreements are reached between the sides.