A roundtable on "International aspects of the Azerbaijani-Armenian conflict over Nagorno-Karabakh and Karabakh in post-resolution period" was held at the Grand Hotel Europe of Baku on Wednesday with organization support from the Democratic Reforms Party.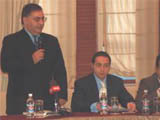 Attending the gathering were political specialists, public-political figures, members of the political parties and public organizations, Trend reports.
In his remarks MP Asim Mollazade, the chairman of the DRP, noted the important role of the international organizations in the peaceable resolution of the Nagorno Karabakh conflict, but also stressed the difference in the positions of the international organizations.
In his turn Eldar Jahangirov, an adviser of the DRP chairman on international issues, spoke about international aspects of the conflict, and touched upon "Aland islands model" of conflict resolution.
Mardan Efendiyev, a member of the Political Board of the DRP delivered a report titled "Karabakh in post-resolution period". He drew attention to removal of the heavy outcomes of the conflict, restoration of Karabakh and development, rehabilitation problems of the repatriated people.
MP Jamil Hasanli stressed that Nagorno-Karabakh was granted with highest autonomy status, while for the time being the application of the models mentioned do not justify themselves. So, becoming a powerful country Azerbaijan ought to return back its capacity of decision-maker in the areas currently under Armenian occupation.
MP Akram Aylisli, a prominent writer, noted the necessity of preferring the peace way for the conflict resolution and positive milestones in the neighborhood policy.
Etibar Mammadov, the chairman of the Azerbaijan National Independence Party (ANIP), underlined the necessity of putting an end to mutual accusations between the authorities and the opposition, offering the authorities necessary opportunities for the resolution of the Nagorno Karabakh conflict and the report by the authorities to the nation on the work done.
Ilyas Ismayilov, the chairman of the Adalet Party, stressed that due to absence of Armenian people their claims also do not meet the international norms, but led to rise of separatist and terrorist movement in the area. Ismayilov noted the necessity of refusing from the mediation of the OSCE and restore the same mission by the UN Security Council.
Other speakers to the gathering were Rasim Musabayov, a political scientist, MPs Samad Seyidov and Nasib Nasibli.