"Position of Azerbaijan on Nagorny Karabakh is strengthening gradually and it may result positively in the peaceful settlement process," the head of the Azerbaijan delegation to PACE, MP Samed Seyidov told the conference organized by the Party of Democratic Reforms of Azerbaijan in Baku today.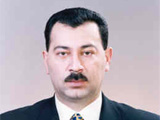 At the event on the subject "International aspects of the Nagorno Karabakh problem and Karabakh after the conflict settlement", he reported on the necessity for the international institutions to use just the experience applied throughout the world in the conflict settlement, Trend reports.
According to Seyidov, position and activities of the Council of Europe on Karabakh may be considered satisfactory. 46 states, which signed under the resolution adopted in this institution confirmed that the lands of Azerbaijan are under occupation.
Seyidov noted that OSCE, the European Union and other international structures must use the European experience in regard to the Nagorny Karabakh conflict settlement. "And position of Azerbaijan is constructive and complies with the rules existing in the world. For the problem solution Azerbaijan is to apply international rules at home as well, as foreign policy is reflection of the domestic policy," Seyidov underlined.