Council of Europe Parliamentary Assembly (PACE) Monitoring Group co-rapporteur on Azerbaijan Andres Herkel considers that, re-forming of the Central Election Commission (CEC) doesn't mean fundamental amendment.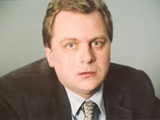 He told APA about it exclusively: "I see the track I have always seen-the government tries to form opposition that satisfies it and it is nothing but imitation of opposition."
A.Herkel also touching on the document adopted on ratification of the Azerbaijani delegation to PACE, stressed the significance of making amendments to the Election Code alongside re-forming the CEC.
A.Herkel noted that, the co-rapporteurs will pay several visits to Azerbaijan elated to re-elections.