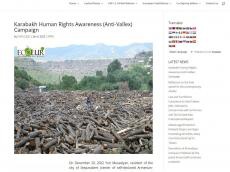 By Azernews
A secular European NGO with UN Consultative Status, CAP Freedom of Conscience, has launched a campaign to raise awareness about the rights of Armenians living in Karabakh.
The campaign was initiated by the incident that occurred on December 20, 2022, with a resident of the city of Khankandi, Yuri Musayelyan, who was severely beaten in his apartment in the presence of his family members, including children.
The organization says that Musaelyan said on his Facebook page that his only "fault" was that he questioned the course of confrontation chosen by the newly appointed "state Minister of Karabakh" Ruben Vardanyan, a Russian-Armenian billionaire who made his fortune through dubious financial scams.
Less than 2 months after taking office Vardanyan, disrupted the environmental monitoring agreed by the Azerbaijani government with Russian peacekeepers at the gold deposit and copper mines operated in Karabakh by the Armenian copper monopolist Vallex Group, the NGO said.
"Since the activity of the Vallex Group in the region is a symbol of the violation of the fundamental rights of the people of Karabakh, we have chosen "Anti-Vallex" as the campaign slogan. We invite all interested, and first of all, local residents of Karabakh, to share with us all the information about cases of human rights violations in Karabakh, including violation of environmental standards by the company," the statement reads.