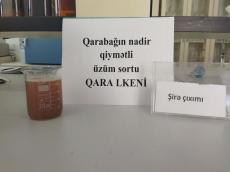 Endangered grape varieties of Karabakh grapes are being bred again, Azernews reports per the Azerbaijani Agriculture Ministry.
The Azerbaijani Scientific Research Institute of Viticulture and Wine-making is engaged in the process to increase the harvest and export potential of the national brands.
The institute signed a contract on scientific cooperation with the German Geilweilerhof Federal Research Centre for Grapevine Breeding of the Julius Kühn-Institut, to study the genetic diversity of local grape varieties by modern methods.
Promising local grape varieties are first identified and selected to provide producers with high-quality seed material, such as Gara Lkeni, which is one of the rarest sorts of Karabakh grapes.
Under the agreement, on April 28, 2022, vines of the Gara Lkeni grape variety were sent to Geilweilerhof for analysis using molecular genetic, ampel, and phenotypic descriptors. The results of the analyses confirmed that the variety is genetically pure.
The digital description of valuable local varieties of Azerbaijani grapes according to modern protocols and methods of the International Organisation of Vine and Wine (OIV), a compilation of the main morphogenetic characteristics of grape varieties separately for each variety, and their placement in the Vitis International Variety Catalogue (VIVC) proves that they are national varieties of Azerbaijan.