Yesterday the first meeting of Central Election Commission in the new composition was held.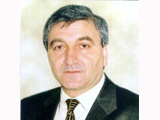 According to APA, election of a new chairman, deputy chairman and secretaries was discussed at the meeting attended by chairman of Milli Majlis Ogtay Asadov and head of Milli Majlis Apparatus Safa Mirzayev.
Under the demands of Election Code, it was entrusted to the oldest member of CEC Svetlana Gasimova to preside the meeting till the chairman is elected.
Ogtay Asadov thanked previous commission members for their activities in parliamentary elections. Then he said that, as a party in majority in the parliament, Yeni Azerbaijan Party nominated Mazahir Panahov to the chairmanship of CEC.
Svetlana Gasimova also said that, this issue was discussed in CEC and noted that, Mazahir Panahov was nominated to this post.
Current 18-member composition of CEC voted for Mazahir Panahov unanimously. Svetlana Gasimova was elected deputy chief and Natig Mammadov was elected secretary as representative of non-party members.
Natig Mammadov said that, another secretary of CEC from the parties in minority in the parliament will be determined after reelections. Mazahir Panahov said that, they will do their best to conduct democratic elections in the country afterward.