Armenian intelligentsias have sent a letter to Armenian President Robert Kocharyan who is flying to France to negotiate with Azerbaijani president Ilham Aliyev on resolution of Nagorno Garabagh conflict.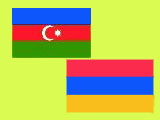 The letter gives recommendations to Armenian president how he should behave at the meeting with President Ilham Aliyev. Armenian intelligentsias consider that, when the resolution of the Nagorno Karabakh is discussed, president Kocharyan should put forward such conciliation that, the conflict can't be resolved without discussing destruction of Armenian monuments in Nakhchivan: "You should tell Aliyev that, Armenia will take Azerbaijan to international court in connection with destruction of Armenian monuments in Nakhchivan."
Armenian intelligentsias also say UN and European Union have to set up an investigation group consisting of Armenian and other countries' experts in order to examine the situation of the Armenian monuments in Nakhchivan.
It should be noted that, Armenian parliament speaker Arthur Bagdasaryan forwarded a letter to European Council Secretary General Terry Davis and President of Parliamentary Assembly of Council of Europe Rene van der Linden on destruction of alleged Armenian monuments in Julfa region of Nakhchivan.
Arthur Bagdasaryan calls CE leadership to take a stance and end the "Atrocious actions" of Azerbaijani government and to regulate the situation.