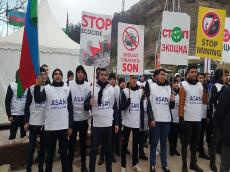 January 5, 2023, marks the twenty-fifth consecutive day of the civil protests of the Azerbaijani eco-activists, youth, and NGO representatives in Karabakh, close to the Russian peacekeepers temporarily deployed area, Azernews reports.
Protesters from all walks of life have been vigorously rallying against the illegal exploitation of Azerbaijan's mineral resources in the Karabakh economic region by ethnic Armenian separatists in collaboration with Armenia's various governments for over 20 years.
The protesters are holding banners and chanting slogans.
Despite the reports spread by Armenian media about Azerbaijanis allegedly blocking the Lachin road, several Russian peacekeepers and support and supply cars have been seen passing unhindered through the Khankendi-Lachin road.
Later, conditions were created for the free passage of 2 passenger cars and 6 supply vehicles belonging to the Russian peacekeeping along the Lachin-Khankendi road as well.
To recap, following discussions with the command of the Russian peacekeeping contingent on December 3 and 7, 2022, Azerbaijani specialists from the Ministries of Economy, Ecology, and Natural Resources, the State Service for Property Issues under the Ministry of Economy, and AzerGold CJSC were to conduct primary monitoring on illegal exploitation of mineral deposits on Azerbaijani territory. However, the monitoring failed due to the provocation of ethnic Armenians. The peaceful protest continues for the eighth day.