Igbal Agazadeh held a press-conference.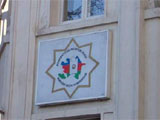 "Though we nominated our candidate to be represented in the Central Election Commission, we addressed a letter to the parliament protesting against such way of forming the organization. We were right in protesting. We advocate forming the 6-member minority by the opposition not by the pro-government parties represented in the parliament," leader of Umid Party, parliament member Igbal Agazadeh told the journalists.
As APA informs, the parliamentarian said that is it outlaw to introduce Social Welfare and Ana Vatan Parties as a minority. According to him, the minority of the CEC should be composed of only the political organizations that participated in the election marathon as party. The members of the parties participated in the elections individually shouldn't be included here: "Therefore, we have determined not to send a delegate to the CEC."