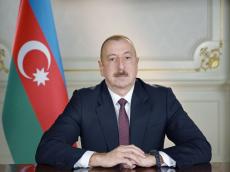 President of Azerbaijan Ilham Aliyev has sent a congratulatory letter to Cuban President Miguel Diaz-Canel Bermudez.
"It is on the occasion of the National Holiday of the Republic of Cuba – Liberation Day that on my behalf and behalf of the people of Azerbaijan, I convey my most cordial congratulations and best wishes to you and, through you, your people.
I believe we will continue our joint efforts to expand Azerbaijan-Cuba relations and solidify cooperation both bilaterally and within international bodies, particularly the Non-Aligned Movement.
I seize this pleasant opportunity to congratulate you also on the occasion of the New Year 2023 and wish everlasting peace and prosperity to your friendly people," the letter says.