Musavat Party has not defined its representatives to the Central Election Commission (CEC) yet.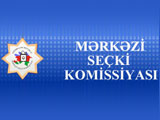 As APA informs, Deputy Leader of the party Mehman Javadoghlu stated that this issue had not been discussed in yesterday sitting of the Supreme Assembly.
M.Javadoglu also added that, Musavat hadn't made any official decision with regard to its participation in the process of forming the election commissions.
According to him, the delegation will be defined by the final decision of the party. It should be noted that Musavat Assembly charged the Supreme Assembly of the party with discussion of the party's participation in forming the CEC.