Another 13 persons have taken signature cards from the Central Election Commission.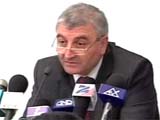 The chairman of the Central Election Commission stated that the process of taking the signature cards would continue before 105 days for the election date, ANS Informs.
If the new members of the election commission are not defined until the repeated parliamentary elections the Central Election Commission will form the annulled precinct and district electoral commissions on the basis of previous political content, said Natig Mammadov, the secretary of Central Election Commission. But Mr. Mammadov also stated that according to the legislation it is possible to form the district electoral commissions even 5 days before the elections.