Ilham Aliyev meets Russian Defence Minister Sergey Ivanov.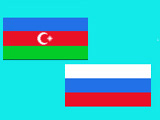 Azerbaijani President Ilham Aliyev said on Tuesday receiving Russian Vice Premier, Defence Minister Sergei Ivanov that considerable progress has been observed of late in relations between Azerbaijan and Russia, reports ITAR-TASS.
"Relations between Azerbaijan and Russia can be characterized as good neighborly and friendly, they are dynamically developing and the growth of mutual turnover has been reached," the Azerbaijani head of state pointed out.
In the view of Aliyev, the Azerbaijani-Russian cooperation "can serve as an example for other countries." According to the president, "We are satisfied with the level of mutual understanding and hope in the future to develop cooperation in all spheres, including in the military sphere."
According to Ivanov, Russia has started preparations for President Vladimir Putin's visit to Azerbaijan. "Relations between Russia and Azerbaijan in the political, economic, cultural and military spheres are developing dynamically," the Russian Defence chief said. He particularly stressed that Moscow and Baku "are disposed to strengthen cooperation in the military and military-technical spheres." The sides have already made several positive steps in this direction, Ivanov noted. "Security in the Trans-Caucasus region, in the Caspian and in the whole region, including in the Middle East where the situation is unfortunately far from being stable yet depends on our common approaches," the Russian minister emphasized.