Hungarian FM meets Elmar Mammadyarov.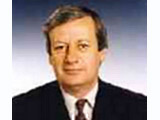 The government of Hungary supports the peaceful process on the Nagorno Karabakh conflict settlement in the framework of the territorial integrity of Azerbaijan, the state secreatry on political issues of the Hungary Foreign Ministry Andrash Barshoni said in a statement on 23 January 2006 during the meeting with the Azerbaijan Foreign Minister Elmar Mammadyarov, Trend reports.
Having thanked the authorities of Azerbaijan for opening of the diplomatic mission in Budapest Barshoni noted the interest of the Hungarian side to see its Embassy in Baku in future. He stressed the importance of the Azerbaijan-Hungarian cooperation development in the non-oil sectors of the economy, in particular, in agriculture, pharmaceutics, tourism and etc. The Foreign Minister Elmar Mammadyarov has been conveyed the invitation to pay an official visit to Hungary.
The head of the Azerbaijan Foreign Ministry underlined the importance of the mutual visits for the bilateral relations development.