Deputy Foreign Minister Khalaf Khalafov conducted several meetings in the framework of his visit to Switzerland.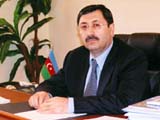 As APA informs, the Deputy Minister met with M.Ambuhl, State Secretary of Swiss Federal Department of Foreign Affairs. Views were exchanged on the current Azerbaijan-Switzerland relations and further directions of the cooperation at the meeting.
The sides discussed Swiss Foreign Minister's visit to Azerbaijan, holding the sitting of Azerbaijan-Switzerland Joint Economic Commission in Bern in the first quarter of 2006 and the issue on signing the coordinated projects "Joint Declaration on migration between the FMs of two countries", "Treaty on promotion and mutual protection of investments" , "Treaty on elimination of double taxation with respect to taxes for incomes and property" , "Treaty on technical, financial and humanitarian cooperation" in the nearest future.
The issues concerning Armenia-Azerbaijan conflict, security, protection of state borders and etc were also touched upon at the meeting. The sides also expressed their interest to the development of cooperation in economic-commercial, agricultural, tourism, environment, educational, cultural and other fields.
Views were exchanged on the issues of mutual interests. K.Khalafov also met with President of the International Committee of the Red Cross J.Kellenberger, General director of International Organization for Migration B.Mckinley, assistant director of European Regional Bureau of the UN High Commissioner for Refugees D.Lambo and deputy of the UN High Commissioner for Human Rights Mrs. M.Williams.