The Syrian President, Bashar al-Assad, has blamed a "global plot" against the Arab world for his country's deteriorating relations with Lebanon.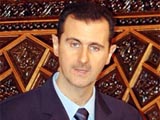 According to Al Jazeera in a typically combative address at a legal conference in Damascus on Saturday, al-Assad said: "What is happening between Syria and Lebanon is part of a global plot against all Arabs, which has many facets."
The Syrian president said he was in favour of the UN commission of inquiry into the murder of former Lebanense prime minister Rafiq al-Hariri continuing its work, but on a legal and not political basis.
"Total cooperation with the UN commission must be made while respecting principles of national sovereignty, the neutrality of the inquiry and on a legal basis. National sovereignty is the strongest thing and not UN resolutions," said al-Assad, speaking in front of a backdrop which read "Defending Syria is National Duty" in English and Arabic.
Syria has come under sustained international pressure for internal reform following the 14 February murder of Rafiq al-Hariri, which was widely blamed on Damascus.
Al-Assad has vehemently denied responsibility for the al-Hariri murder and a string of other political assassinations in Lebanon over the past year.