Japan's PM Junichiro Koizumi has pledged to submit a bill to parliament letting women ascend to the throne.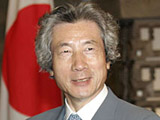 BBC reports that in an annual keynote speech, he said the move was needed "in order that the imperial throne be continued into the future in a stable manner".
Under existing rules only men are allowed to become emperors, but no boys have been born into the imperial family for 40 years.
Mr Koizumi also vowed to improve relations with China and South Korea.
"While there may be differences in opinion or disputes in certain areas, China and South Korea are very important neighbours," he said.
Speaking at what could be his last annual address at the opening of the Japanese parliament, Mr Koizumi said the government would submit a bill to reform the Imperial Household Law.
He did not provide details of the proposal, or when it would be submitted. But he said it would be in line with the conclusions of a government panel which last year recommended letting women inherit the Chrysanthemum Throne.
If the change goes ahead, it would pave the way for Emperor Akihito's four-year-old grand-daughter, Aiko, to become second in line to the throne after her father, Crown Prince Naruhito, the present heir.
Crown Prince Naruhito and his wife Masako have not yet had a son. Masako, 42, has partially withdrawn from public life due to a stress-related illness, said to be partly induced by the pressure on her to produce an heir.
Opinion polls in Japan suggest a majority of people think that women should be allowed on the throne.
But some conservatives - including Prince Tomohito, a cousin of Emperor Akihito - have opposed the idea, suggesting instead the crown prince use concubines to produce a male heir.