China has proposed that stalled six-party talks on ending North Korea's nuclear programs be resumed early next month, a proposal that the United States also favors.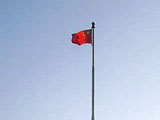 The United States and South Korea have been urging North Korea to return promptly to the talks, last held in November, but Pyongyang is angry about a U.S. crackdown on companies Washington suspects help North Korea with counterfeiting, money laundering and drug smuggling, informs Reuters reffering to Kyodo news agency Saturday report.
Kyodo quoted a U.S. State Department official in Washington as saying he believed there had been a proposal about when to restart the talks, but that no agreement had been reached.
"The Chinese had talked about early February," the official was quoted as saying.
"We reaffirm the fact that we're ready to go to Beijing in early February, but there's not yet agreement," the U.S. official added.
Last September, North Korea agreed in principle to scrap its nuclear arms in exchange for aid and security guarantees, but talks have stalled since the six parties - China, Russia, Japan, the United States and the two Koreas - met in November.
Over the past week there has been a flurry of efforts to restart the talks, including a meeting on Wednesday in Beijing between U.S. talks envoy Christopher Hill, North Korean negotiator Kim Kye-gwan and Chinese envoy Wu Dawei.