Israel has accused Iran and Syria of being behind Thursday's suicide bombing in Tel Aviv.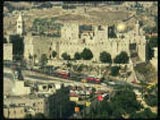 According to EuroNews, Defence Minister Shaul Mofaz reportedly said authorities had proof that the attack, which wounded 30 people, was funded by Tehran and organised from Islamic Jihad's headquarters in Damascus. Mofaz met security officials on Friday morning to discuss their response to the bombing and reportedly said Israel would not hit back at the Palestinians, although hours after the attack the army killed a Palestinian man.
He warned: "What we're seeing on the eve of the election to the legislative council is that the Palestinian National Liberation movement has actually been hijacked by the Islamic Radical Movement headed by Iran and Syria." The Iranian president, Mahmoud Ahmadinejad, is on the second day of a visit to regional ally Syria. He pledged his support to militant Palestinian factions in what he described as their "just" struggle. Both he and his Syrian counterpart reiterated on Friday that they back the right of Palestinians to resist Israeli occupation.