A former Pentagon analyst was sentenced to 12 years and seven months in prison on Friday for passing U.S. defense information to two pro-Israel lobbyists and for sharing classified information with an Israeli diplomat.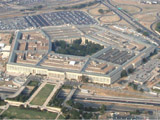 Lawrence Franklin, 59, who had worked as an analyst in the office of the secretary of defense, pleaded guilty in October to sharing the information and also to illegally having classified documents at his home.
Reuters correspondent Deborah Charles informs that Franklin had faced up to 25 years in prison. U.S. District Judge T. S. Ellis reduced his sentence because of his cooperation and it could be cut further as he helps the government which is still prosecuting the two remaining defendants in the case - former officials of the American Israel Public Affairs Committee, a pro-Israel lobbying group.
Ellis said Franklin would not have to go to jail to start serving his sentence until he was finished cooperating.
Franklin is expected to testify against the two former AIPAC officials, Steven Rosen and Keith Weissman. They have both pleaded not guilty to charges of conspiracy to communicate national defense information provided by Franklin. Their trial is scheduled to begin on April 25.
Franklin did not make any statement at the sentencing but he said previously that he had never intended to harm the United States.
Before Ellis announced the sentence, federal prosecutor Kevin DiGregory urged Ellis to consider the gravity of the fact that Franklin had knowingly disclosed classified information to unauthorized people.
"The danger of such unauthorized disclosure, when you disclose national defense information ... is that the United States government loses control of such information," he said.
When he pleaded guilty in October, Franklin said he disclosed the national defense information to the two AIPAC officials from early in 2002 through June 2004.
Franklin also said he met with the political officer from the Israeli embassy at least nine times from August 2002 through June of last year and admitted he gave the officer classified information that he was unauthorized to receive.
Franklin said in October he assumed the Israeli government already had the information and said the diplomat offered him "far more" information than he disclosed.
Ellis chided Franklin for the reasons he has given for his actions. Franklin said he passed on the secret information because he was concerned about a threat to the United States that he felt was not being taken seriously enough by the administration.
So he decided to pass the information on to others who would feed it back to the White House's National Security Council.
"There is no excuse for your thinking that you could get to the NSC circuitously by disclosing national defense information to unauthorized persons," Ellis said before issuing the sentence. "It can't be disclosed."
Ellis also criticized Franklin for sharing the information as part of a way to get a job on the National Security Council.
Prosecutors have said Franklin discussed with Rosen, who was at that time AIPAC's director of foreign policy issues, his prospects for a staff job on the council with Rosen. Franklin also asked Rosen to put in a good word for him.