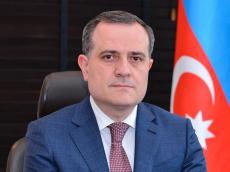 By Azernews
By Sabina Mammadli
Azerbaijani Foreign Minister Jeyhun Bayramov left for a working visit to Austria on January 18, the Foreign Ministry has reported.
As part of the visit, the minister will attend the opening meeting of the OSCE Security Cooperation Forum chaired by Azerbaijan.
Bayramov will also attend bilateral meetings with OSCE and Austrian officials of OSCE and Austria during the visit.
Azerbaijan has become a member of the Council for Security and Co-operation in Europe (CSCE) since January 30, 1992. The CSCE was the first European organization to include Azerbaijan. It was renamed the OSCE on January 1, 1995.
For the first time, Azerbaijan participated in the CSCE summit in Helsinki from July 8 to 10, 1992, and signed its documents.
After becoming a full member in 1992, Azerbaijan participated in the organization's summits in Helsinki in 1992, in Budapest in 1994, in Lisbon in 1996, in Istanbul in 1999, and in Astana (now Nursultan) in 2010. Azerbaijan actively participates in the annual meetings of the OSCE Council of Foreign Ministers and discussions of draft resolutions and documents.
The OSCE Security Cooperation Forum works to increase military security and stability in Europe and covers some of the most fundamental politico-military agreements of the OSCE participating states. It helps implement landmark confidence and security-building measures to regulate the exchange of military information and mutual verification between states, as well as the Code of Conduct, a key document ensuring the democratic control of security forces.