Today Karabakh Liberation Organization (KLO) forwarded a letter to the US and France embassies condemning the steps taken in both countries on recognition of the separatist "Nagorno-Karabakh Republic".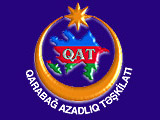 In the letter KLO denounced the loyal attitude of the US and France toward the forces supporting the separatist republic. It was noted that the decision of Mayor's Office of Valance city of France on recognition of the so-called republic and the decision of Mayor's Office of Montebello of California state of the US on becoming fraternal with the home of terror-Stepanakert.
The KLO considers these steps taken by the US and France as hostile actions towards Azerbaijan. The organization demands in the letter addressed to the Embassies of the two countries to comment the issue. The letter reads that, otherwise the KLO will start protest actions outside the Embassies of the US and France.
APA