The latest report of the International Crisis Group (ICG) on the situation in Azerbaijan is based on the results of 2003 (presidential), 2004 (municipal) and 2005 (parliamentary) elections, the ICG project director for Caucasus Sabina Freiser stated during a news conference today.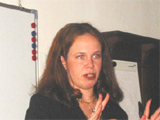 According to Freiser while preparing the document ICG did not pursue the anti-government objectives. "Our goal is only to stimulate the work of the authorities," Freiser said, reminding that the ICG representatives along with the representatives of other international institutions participated in the November 6 parliamentary election monitorings.
Freiser said that the ICG is aware of violations of law being recorded during the election campaign and resulting three heads of regional administrations being dismissed from their positions. In her opinion, being in the period, when the revenue growth commences in Azerbaijan the country needs a good legal base enabling it to fight corruption.
"I call on the opposition to use all legal ways to remove falsifications," Freiser said, stressing that the country's judicial system needs reforming for the violators to be properly criminally accountable in future.
In conclusion, the ICG project director stated that during the parliamentary elections 2005 some positive moments, which advantageously single out the latest election campaign from previous ones have been noted. "A large adherence to the law, a large professionalism of the judicial system – all these are positive moments," Freiser noted.
Trend/EV