The special representative of the European Union on Southern Caucasus Heike Talvitie held a press-conference devoted to the results of his short-term visit to Baku (APA).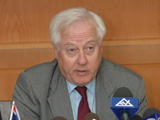 Talvitie reminded that he had visited Baku before the elections, and said that progress had been made during the pre-election campaign in comparison with the previous elections. H.Talvitie said that some shortcomings had been observed on the Election Day and international observers are concerned about it and noted that he supports solution of all election-related issues in the framework of the law.
The European diplomat speaking about the meeting he held with the opposition leaders today declared that he appreciate the opposition for holding peaceful demonstrations and acting in the framework of the law in restoration of justice.
H.Talvitie stressed that during the meeting with the head of the Executive Apparatus of the President Ramiz Mehdiyev, he had highly valued measures implemented by the authority in connection with the elections and stressed the importance of reviewing elections-related complaints in legal form.
H.Talvitie considers that great change in the Azerbaijani society is in different approaching to democratic processes. He specially stressed the importance of the authority-opposition dialogue, and confidence in each-other.
During the meeting with the chairman of the Central Election Commission Mazahir Panahov, the European diplomat was informed that elections-related complaints are received and necessary procedures are implemented. H.Talvitie said that another objective of his visit is to hold negotiations on the new neighborhood policy of Europe and informed that technical consultations will be started with all 3 Southern Caucasian countries soon.
APA