Republican Ileana Ros-Lehtinen, a member of the U.S. Congress, gave positive appreciation to the steps taken by the Azerbaijan President, Ilham Aliyev, after the November 6 parliamentary elections.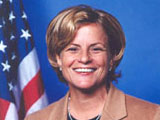 Ros-Lehtinen called on the President to continue his cooperation with the United States, international community and all circles within the country, as well as carry out necessary reforms to hold freer and more transparent elections in the future.
In her remarks at the House of Representatives, Ros-Lehtinen stated that there was considerable progress in the November 6 parliamentary elections in Azerbaijan as compared with previous elections. She noted that the Azerbaijani government established conditions for registration of numerous candidates, conducting of monitoring and exit poll by international and local, improved election lists, took some measures to hold more exact and transparent elections.
Ros-Lehtinen underlined importance of the steps in liquidation of negative events taken place during the elections. In her opinion, the investigation must be directed not only to the problems, but also prevention of disagreements appeared after voting.
Trend