The Azerbaijani authorities are ready for the dialogue with the country's political parties, the head of the socio-political department of the Azerbaijan's President executive office Ali Hasanov told journalists on 21 November, Trend reports.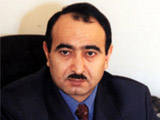 "The political opposition must remain as one of the leading institutions of the society and the authorities are ready to communicate and consult with any public institutions of the country, including opposition on issues of our future activities on state structuring, foreign policy, democratization of the society and other," Hasanov said.
"In any country, any strong authority must have strong opposition and we are also interested in it," Hasanov stated.
Trend