Chairman of the Party for Democratic Reforms Asim Mollazadeh leaves for Tbilisi and will stay there from 21 to 23 November for participation at the international forum dedicated to the anniversary of the "revolution of roses".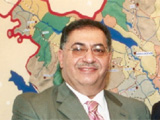 Mollazadeh along with foreign politicians and political analysts will attend a grand ceremony dedicated to revolution where he was invitated by the Georgian President Michail Saakashvili.
There the quests will discuss the aims and tasks of democratic movements and governments.
Trend