Baku City Executive Power authorized "Azadliq" bloc to hold rally-meeting on November 19.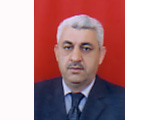 The opposition will hold the authorized rally from "20 Yanvar" subway station at 15:00 and will finish in front of State Film Foundation (previous "Galaba cinema) with a gathering at 17:00. APA was informed by Hasan Karimov (photo), one of the rally organizers.
According to his words, although "Azadliq" bloc applied to the Mayor Office on holding the rally on November 19, 20, they were only permitted for November 19: "The reason for not authorizing to hold the rally on November 20 was not pointed out". Mayor-general Yashar Aliyev, deputy chief of Baku City Main Board of Police (BCMBP) told APA that the security of participants of the rally to be held on November 19 will be ensured by enforcement bodies. According to his words, the organizers of the rally will be called to BCMBP a day prior to the rally and warned not to violate the law.
/APA/