A group of candidates to deputy claiming their rights were violated in the parliamentary elections held republic-wide meeting in Republic Cultural Palace named after Shah Ismayil Khatayi today.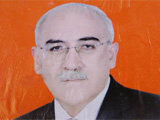 The meeting brought together the representatives of "Azadlig" bloc, "Yeni Siyaset" bloc, Election Bloc of Lawyers, PFPA (c), Movement of National Revival, Islamic Party, non-party people, independent candidates, and representatives of Yeni Azerbaijan Party. Addressing to the meeting, head of Central Election Headquarters of "Azadlig" bloc Penah Huseyin stated that, according to the counting, only 521 thousand voters voted for YAP in the parliamentary elections. Underlining that, the opposition won the elections, P.Huseyin drew the attention of the participants to the draft of the statement of the meeting. The statement comments the pre-election situation and Election Day, as well as the situation aftermath the election. The elections are reported to have been falsified in favor of the ruling party and therefore, run-ups are demanded to be held. The participants of the meeting expressed their views on the statement and on further steps. Rauf Arifoglu, Ilgar Ibrahimoglu, YAP member Asadulla Gurbanov, AvazHumbetov, Arif Hajili, Zalimkhan Mammadli, Babakhan Muradov, Vurgun Ayyub and others made speeches in the meeting. Chairman of NIPA Ali Aliyev said of the NIPA to be together with the opposition forces till the end".
Vurgun Ayyub told that, teachers committed falsifications and therefore, he called on parents not to send their children to school and boycott the teachers. PFPA chairman Ali Karimli put aside the ambitions of the party and stressed the importance of being united. Musavat leader Isa Gambar stated the necessity of the position forces coming together and discussing their further steps regularly. Underlining that, there is a real chance for changing the situation in the country, I.Gambar said, they will try to organize their activities on legal, socio-political and international level. A statement was adopted in the end of the meeting.
/APA/