Yesterday the Central Election Commissiongathered for its regular meeting and discussed law violations in the Nizami (Ganja) II Election Constituency # 38.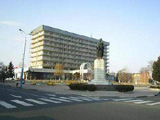 The CEC member Ramiz Ibrahimov informed that there are contradictions in calculation of votes and division of votes in protocols in the polling stations # 7, 8, 9, 14, 16, 17 of this constituency. According to his words, several violations of the law including intervention by the police were revealed in the polling station # 2, 4, 21, 22, 24 of this constituency. The speaker informed that the indicated facts give a reason to nullify the results of the elections in the mentioned polling stations.
The CEC member also noted that the ConEC had nullified the results of the polling station # 15 situated in this constituency. Because the number of the nullified polling stations is more than 2/5 of the general number of polling stations and the number of voters whose votes were nullified is more than ? of the general number of voters, the results of the constituency should be nullified in general. Other members of the commission made speeches in the meeting also spoke about the violations happened in this constituency.
The CEC member Anvar Aliyev informed that names of policemen intervened in the election process must be published in parallel with names of commission members allowed falsifications and they must be called to account. The CEC chairman Mazahir Panahov informed that all facts concerning this issue will be generalized and submitted to the Ministry of Internal Affairs.
At the end of the meeting the CEC made a decision to nullify results of the Elections in the Nizami (Ganja) II EC # 38.
APA