The second sitting of the Parliamentary Assembly of Council of Europe (PACE) Lower Committee for regulation of the Nagorno Karabakh problem is held in Paris, capital of France yesterday.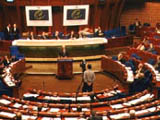 Azerbaijan is represented in the sitting by deputy Foreign Minister Araz Azimov, head of the Azerbaijani Parliamentary delegation to PACE, member of Lower Committee Samad Seyidov and member of sub-committee Asim Mollazade.
OSCE Minsk Group co-chairman and personal representative of OSCE chairman-in-office Andrzey Kasprzyk have been invited to the sitting too.
It must be noted that, the sub-committee was formed in PACE Winter session this year and the committee is chaired by CE ex-president, member of British parliament Lord Russell- Johnston. Yesterday's sitting is presided by R.Johnston too. Recommendations are expected to be made on the regulation of the Nagorno Karabakh conflict.