The president Ilham Aliyev received the delegation led by the commander of the land forces of the Armed Forces of Turkey, General of the Army Yashar Boyukanit yesterday.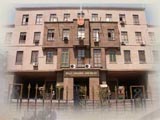 According to the information given to APA from the press-service of the President's Apparatus, the general said that he is pleased with his visit to Azerbaijan and brotherhood between the two countries exists in the real, but not just in the words.
The president saying that he is informed about the visit programme of the guests informed that partnership with Turkey rapidly develops in different fields including the military field: "After Azerbaijan restored its state independency we always felt the support of Turkey. The Turkish army had and continues to have a great role in formation of the modern strong army of Azerbaijan".
The head of the state informed that partnership between Turkey and Azerbaijan in the economic, military and other fields serves the peace and stability in the region.