Economic, political and defense cooperation between Azerbaijan and Turkey serves to ensuring stability in the entire region, such a statement was made on 7 September by the President of Azerbaijan Ilham Aliyev at the meeting with the delegation headed by the commander-in-chief of the ground troops of the Turkish Air Forces general Yashar Byukanit.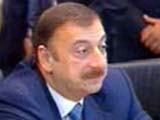 As Trend reports, the head of the state stressed, that "after obtaining the independence Azerbaijan always felt the support from Turkey". «In forming the modern, strong army of Azerbaijan especial role belonged and belongs to the Turkish army", the head of the state noted, underlying that the links between the two countries are developing successfully in all fields, including the military one.
General Yashar Byukanit said, in his turn, the "friendship between Azerbaijan and Turkey lives in the hearts of citizens of the both countries and is implemented in reality.
«I am proud to be in Azerbaijan", Byukanit said, stressing that good neighborly relations between Ankara and Baku will be developing also in the future.