The appeal of the party on abolishing chairman of Azerbaijan Democrat Party ADP) Rasul Guliyev's inviolability was reviewed by the court of Sabayel district yesterday.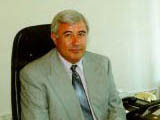 APA was informed by lawyer of Rasul Guliyev, Osman Kazimov. He informed that, the court process was headed by Judge Ilham Aghayev. The judge stated that, as they were not presented the Prosecutor Genralal's decision on abolishing Rasul Guliyev's inviolability, it is impossible to adopt any decision.
O.Kazimov said that he also applied to the Prosecutor's Office for this, but he was not presented the decision. Therefore, it was decided to sent a question to the Prosecutor's Office for getting the decision on behalf of the court. The court process was postponed till 8 September.