Chairman of PFPA(r) Ali Karimli gave a press conference on "Azadlig" bloc's election campaign.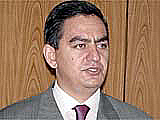 Ali Karimli gave information about the rally to be held by the bloc on 10 September.
"The rally will bring together 50 thousand people and there is no danger of provocation there. Thus, no one can commit sabotage against 50 thousand people. As concerns the opinions that we shall erect orange tents in the square in the rally, I can assure you that this will not happen".
Stating that relevant body has been formed inside "Azadlig" for holding election campaign, the party chairman noted that, they will visit the regions soon. Ali Karimli emphasized that, the Mayor's Office of Baku puts artificial obstacles to the election campaign, violating the items of the Election Code.
According to him, they will apply to the Central Election Commission (CEC) for this matter. Because, it is impossible to hold election campaign according to the decision of the Mayor's Office, because, advertisings do not fit for the campaign.
Chairman of  PFPA (r) stated that, the treaty of cooperation with "YeS" and "National Union" blocs was discussed in the Chairmen's Council of "Azadlig" bloc. He noted, the draft agreement is ready and will be submitted to the administration of "YeS". Saying that provocation is planned against the opposition leaders, Ali Karimli noted the international organizations denounce the provocations against the PFPA. "The security service of the bloc will be used if the provocation acquires a large scale or directed to the whole "Azadlig" bloc".
Expressing opinion on the participation of Musavat Party members Rasim Musabeyov and Ibrahim Ibrahimli in the parliamentary elections, acting against the relevant decision of "Azadlig" bloc, Ali Karimli stated that, said that they adopted decision on nominating one candidacy on each constituency during the discussion about the list of candidates: "The second candidate changes the content of the bloc. There are PFPFA members who nominated their candidatures outside of the bloc. They nominated their candidatures on the constituencies on which the candidates of the bloc have been registered. But we told those people that the party will not come against the decision of the bloc. We have to dismiss them from the party if they do not make right choice. We have to make this decision for the sake of the union though it is very sharp. Thus, there can be one official and one non-official candidate of the bloc on constituency".