The second sitting of Council of Europe sub-committee on Nagorno Karabakh will take place in Paris on 12 September.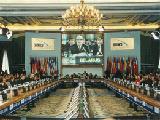 According to the information given to APA by the member of the sub-committee Asim Mollazade, this sitting is of great importance.
"This committee is charged with the execution of the Resolutions adopted by the Parliamentary Assembly of Council of Europe and all the issues concerning the Nagorno Karabakh problem will be discussed seriously in this meeting. The administration of the Minsk Group has also been invited to the meeting; they will inform the committee members about the talks held in the direction of peaceful regulation of the conflict".
Asim Mollazade said that the representatives of the OSCE Minsk Group members countries have been invited to the meeting too. "The meeting will focus on serious discussions, we shall try to find an answer to the question "What will the Council of Europe recommend to the process of talks?" within one day".
It must be noted that, the head of the lower committee is member of British parliament, Lord Russell Johnston. Azerbaijan will be represented by parliamentarians Samad Seyidov and Asim Mollazade. Deputy Foreign Minister Araz Azimov will attend the meeting in Paris too.