The next meeting of the Chairmen Council of the "Azadlig" bloc was held in the headquarters of the Musavat Party yesterday.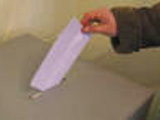 The head of the Musavat Party Isa Gambar held a press-conference after the meeting.
The Musavat head informed that discussions on the results of the actions held by the bloc in the regions last week and holding following actions were held in the meeting. According to his words, the bloc intends to hold rally in Goychay at the end of this week and in other 5-6 regions at the end of the next week. Besides, discussion on the rally to be held by the bloc in Baku was also held and Isa Gambar informed that the time of this action will de determined in the next meeting of the bloc. As to the process on defining the common candidates' list of "Azadlig" I.Gambar informed that they could determine common candidate on another 2 constituencies.
The candidacy of Tofig Huseynov will be put forward from the Tovuz Election Constituency # 105 and of Shakar Aslanov from the Election Constituency # 47. Besides, the bloc decided to hold primary elections in 7 constituencies – Nakhchivan city Election Constituency # 4, Apsheron Election Constituency # 45, Ali Bayramli Election Constituency # 46, Masalli village Election Constituency # 71, Shamkir city Election Constituency # 98, Gazakh Election Constituency # 107 and Balaken Election Constituency # 109: "Three parties' putting forward a single candidate is the difficult process. There are such constituencies that 4-5 YAP members put their candidacies forward from those constituencies though YAP has not officially put forward even one candidate yet". Primary elections are intended to be held during nest week.
The Musavat head speaking about the perspectives of discussions intended to be held between the blocs considers that the talks are significant in any case: "Holding the elections in a free and fair manner is the general goal for anyone and it is possible to reach agreements on this subject. Forming coordination for observing elections together is completely important and possible. After determination of the candidates' list is completed, discussions between the blocs will be started".