The Communications and Information Technologies Ministry holds preparations for the parliamentary elections to be held on 6 November.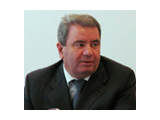 The Ministry established a special working group led by Ali Abbasov, the Communications Minister, to provide uninterrupted communication during the elections, Trend reports.
Operative groups were set up at all enterprises and establishments of the Ministry at Abbasov's instructions to provide polls and constituencies with communication facilities.
The Ministry plans to provide constituencies with phones, transfer polls into electron, provide telephone lines linked to computers with optimal technical operation over 20 days before the elections.