The World Union of Azerbaijani Political Migrants (WUAPM) appealed to the Foreign Affairs Ministry (FAM) of Greece in connection with the arrest of Mehdi Khalilov who was searched for participation in the events 15-16 October, 2003.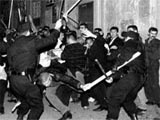 APA was informed about it from WUAPM. We should note that M.Khalilov was arrested in Alexandria city of Greece on July 28 at request of the Interpol. M.Khalilov considered guilty in beating the associate of the "Lider" TV Sahil Karimli and participating in the 15-16 October events was given a political asylum in Germany and he has got a German passport.
WUAPM expresses its decisive protest to M.Khalilov living with the status of the political migrant in Germany being illegally arrested in Greece in its appeal.
WUAPM declares that Greece's government's condemning M.Khalilov and turning him over to Azerbaijan is contrary to the 1961 Geneva and 1967 Dublin conventions and to some other international laws and conventions: "We require the government of Greece to observe these laws and conventions, to release the political migrant Mehdi Khalilov immediately and to take relevant steps for turning him over to Germany".
Besides, WUAPM also addressed the appeal to FAM of Germany, embassy of Greece in Holland, other international organizations in connection with the illegal arrest of M.Khalilov.