Participant of 15-16 October, 2003 events Mehdi Khalilov who has been searched was arrested in Alexandria, Greece on 28 July.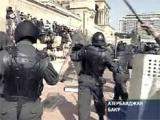 APA was informed by rights defender elder Zeynalov. M.Khalilov was detained on the basis of the inquiry of Interpol. It must be noted that, M.Khalilov who is accused of beating spokesman of "Lider" television Sahil Karimli and participation in 15-16 October events got political refuge in Germany and he has German passport.
The court process about M.Khalilov will be held in Komitini, Greece tomorrow. It must be added that, he has not been supplied with lawyer.