"I was forced to appeal to the European Court on Human Rights as my process was not fairly reviewed by the courts of Azerbaijan".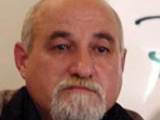 This was told by the former chief of the Baku Supreme Military Naval School (BSMNS) Janmirza Mirzayev who is in France at present.
It should be noted that J.Mirzayev was charged of the murder of the former chief of BSMNS Eduard Huseynov and imprisoned, and some period before was released according to the pardon decree of the president. J.Mirzayev informed that the process of preparing the documents for the European Court is about to end: "I will return to Azerbaijan recently after presenting the documents to the court".
J.Mirzayev informed in the response of the question "Will you join the parliamentary elections?" that he has got more important works: "At first, I have to restore my violated rights. The courts of Azerbaijan do not implement my demands about being exonerated. In this case, it is impossible for me to join the elections.
Besides, there are more important questions which I want to "investigate".
/APA/