Yesterday state head Ilham Aliyev in the building of Gusar region executive power of Gusar with participation of south region executive power leaders and members of cabinet held briefing.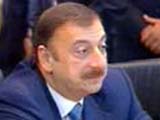 The state head opening the briefing with the opening speech informed that  the purpose of  the meeting is to discuss the problems of the regions.
The president stated that Siyazan, Davachi, Guba, Gusar and Khachmaz are regions of great potential of economy and tourism, stressed the importance of establishing modern infrastructure in the region to use from this potential. He considered reconstruction of infrastructure of the region and to putting into use all the enterprises existing in the  north part to be important. At first, Ilham Aliyev gave order  abut the reconstruction of "Galaalti" health resort in Devechi region and Devechi wine growing plant, as well as Siyazan cannery reconstruction to corresponding  structures.
He stated that new job places will be opened by the functioning of the above mentioned enterprises. The current problems of different regions were discussed in the briefing. The President stated that, the period of usage of electric stations in Khachmaz region has ended for along time, and ordered the administration of "Azerenergy" to construct new substations in order to solve the problem concerning electricity supply of the region.
Ilham Aliyev recommended the canneries functioning in the region to purchase the products from the people for more expensive prices to improve the welfare of the residents of the region. In accordance with the order of the head of state, the useless gas lines will be restored to supply the northern regions with gas. Minister of Agriculture Ismet Abbas who also attended the briefing said that, the establishment of the basis of "Agroleasing" company in the northern region delayed fro 3-4 months.
The minister stated the lack of allocation for purchasing artificial fertilizers to be one of the obstacles to the development of agriculture in the region. I.Abbasov told that the solution of this matter needs 100 billion manats at the initial stage. Corresponding decisions were adopted in the briefing to solve the problems of other regions.